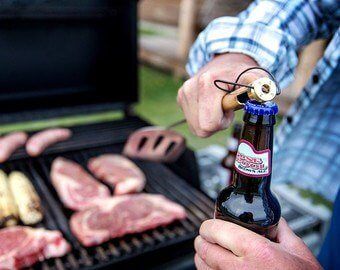 27 Apr

FATHER'S DAY 2017 – BBQ TRENDS AND

Posted on April 27, 2018

by Jason Ensign

0 Comments
IS YOUR LIQUOR STORE READY FOR FATHER'S DAY BBQS?
Father's Day is Sunday, June 18th and we can't wait to get outside with our dads to fire up the BBQ in the backyard! Grilling, smoking, or hot dogs over a campfire, we're in. But what is trending right now? Here are our findings:
Smokers are still increasing in popularity! The low and slow methods of smoking meats, fish and cheeses at home fill the neighborhood with that great smell and the fridge with amazing leftovers.
Going meatless is the new thing! From the classic grilled veggies and black bean burgers to the new meat-alternative burgers that we hear are as tasty as they are better for us, there are options to make every herbivore happy!
For the devoted carnivores, artisan-butchered meats are taking the stage this year. With cowboy cuts being only the beginning of their specialty select options, butchers are getting creative.
Say 'good morning' to breakfast on the grill. In 2017 we expect to see more smoked eggs or mile high pancakes cooked outside.
Cavemen are in this year, or at least the 'in the flame' method of grilling. Steaks, corn, even eggplant goes directly on the coals and in the flames for a deliciously charred meal.
Pizza never seems to go out of style. This year grill it and let that smokiness into the crust and cheese in a melty madness!
And don't forget the technology: With so many bluetooth/digital thermometers out there there's no reason to overcook meals (you can even recommend these at the point-of-sale for a great upsell opportunity)!
NOW THAT THEY'VE GOT A GREAT MEAL PLANNED, WHAT WILL THEY DRINK WITH IT?
Beer is always an option, but the face of beer is evolving. Though mass-marketed brews are holding their ground, smaller craft beers are growing in popularity. Mixed packs that allow customers to sample from several local brews may be a good way to help them find that beer they'll keep coming back to you for. IPAs pair well with burgers.
Wine is as popular as ever! From the light, crisp, citrus notes of a white to pair with grilled fish, to the complex richness of a bourbon barrel red to go with a grilled steak, there are options to make any BBQ complete.
Bourbon. There are few alcohols more associated with a classic BBQ than Bourbon. Served on the rocks or neat, easily continue the smoky flavor in any savory meal.
Gin and tonic is a classic summertime drink. The botanical tastes of juniper pair nicely with smoked cheeses and seafood.
Vodka pairs well with anything as long as it's mixer does. Vodka (diet) tonic with lemon is a nice, lower sugar, 'adult lemonade' to go with every BBQ creation.
Rum is a sweet taste of the islands, even when you're BBQing on the mainland. Mixing well with sodas and juices it pairs best with white meats and salads.
Tequila! Margaritas, punches and fizzes: no matter how it is mixed, tequila provides a refreshing option to the typical backyard fare.
Brandy and Cognac are a good way to end any meal. Both pair well with desserts and fruit dishes.
Rapid Bev POS can help you be sure you're ready for Father's Day BBQs. It doesn't matter if you sell the meat, the veggies, and/or the beverages, our liquor store POS system does so much more than process sales. Our reporting will help you plan ahead effectively so you are ready for the influx in sales. With easy to use software, the front and back of the house will work in harmony so you can focus on your customers and being more profitable.
Schedule a demo today to see how Rapid Bev POS will help you prepare for holiday sales.